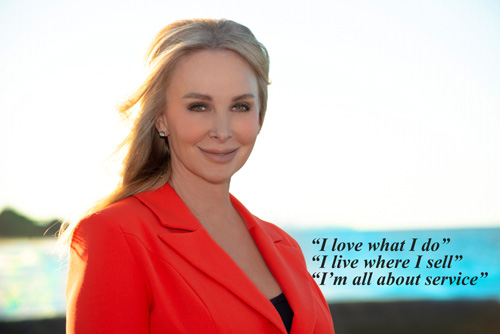 Madonna Delaney | Principal and Director
Licensed Real Estate Agent (Qld & NSW) 
Interior Design Consultant
As a lifelong Gold Coast girl growing up here in the 80's and attending Miami High, I have witnessed firsthand the dramatic change the Gold Coast and in particular, the Southern Beaches have undergone from a sleepy coastal town to a vibrant and sophisticated city.
After leaving school, I worked as an Ansett flight attendant before having a family. My husband, Tim owns the oldest law firm on the Gold Coast, Delaney's Lawyers and we have together owned, renovated and developed numerous properties on the Gold Coast in most of the more exclusive suburbs such as Sorrento, Sovereign Islands, Main Beach and Paradise Waters. Having lived in all those suburbs at one point in time we did 9 years ago choose to build our Dream Home in Tugun at Flat Rock. The lifestyle that we now find today in Tugun and Currumbin is very similar to what the more northern suburbs were 30 years ago.
With my children growing up, I thought it was time to re-enter the work force. I gravitated towards Real Estate sales due to my love of meeting new people combined with my existing interest and expertise in Real Estate. I had also recently completed my formal qualification in interior design which has also been a passion of mine.
Before starting my own agency on June 16th, 2019. I worked for two large franchise agencies and one small independent office. But I just didn't fit in. I like to do things differently, with my focus on people rather than the commission. I had difficulty accepting the practice of putting pressure on the seller to drop their price just to make the job easier and to get a sale at any price.
It seems that my formula and marketing techniques have been successful, so much so, that I have sold more properties in Tugun than any other agent since opening and I have also recently been awarded 'Number 1, "Agent of the Year" in "Sales" for Tugun and "Number 2, Agent for Currumbin" for 2020 by Rate My Agent.
In fact, I was very humbled recently to again win "Agent of the Year 2022" for Tugun by Rate My Agent. This is the second time I have taken out this prestigious award since establishing Madonna Delaney Real Estate on 2 and a half years ago. My agency also took out the award for "Agency of the Year 2022" for Tugun beating my much larger competitors. 
I pride myself in resisting discounting just to get a quick sale. I will not just tell you what you want to hear, I will tell you the truth. Many of my competitors will quote an expected sale price that is completely unrealistic just to 'buy' your listing. I will not do this, as I do not understand how a relationship can be built on a lie.  
If you compare my sales to any of my competitors, you will see many of my sale prices exceed my original list price. I act for the seller first and foremost and I believe that if you put your clients first the benefits will flow. My reputation is everything to me and I am very focused on integrity, honesty and service. I pride myself in always following up and getting back to sellers and buyers.
I will go above and beyond. I can assist with helping you arrange trades, cleaners and removalists. I personally do all my follow up calls, emails and open inspections, I also write my own advertising, and personally attend photo shoots and building and pest inspections.
Your listing will not just be another listing. There is more involved than just putting a signboard up and just turning up to do open homes. Relationships, contacts and trust sell homes. My sellers are entrusting me to sell one of their most valuable assets, so they need to have absolute trust, honesty and integrity in my ability to really get the best price and outcome for them.
Please read my vendor/buyer reviews…
I look forward to being of service to you, please call me today for a free no obligation appraisal on 0411421064.
The southern beaches of Palm Beach, Currumbin, Tugun and Bilinga are Madonna's home and her specialty.
'I love what I do, I live where I sell, I'm all about service'
'Helping clients achieve their goals'
---